Happy Patients, Healthy Smiles
If you are looking for a full-service, family dentist who has a friendly manner that can even ease a suspicious child's fear, look no further than Nadimi Dental Care. We offer a wide variety of dental services and procedures that will have you smiling beautifully in no time! Below are some of the services we proudly provide– we encourage you to learn more about our practice and see how we can best help you. Whether you need a routine cleaning and exam or a complete smile transformation, our professional, kind, and gentle staff will take care of you just like family.
Routine & Preventative Care
Nadimi Dental Care encourages patients to recognize that preventative and routine dental care is necessary for a healthy, beautiful smile. It is our practice's goal to preserve your natural dentition and supporting structures through the prevention of dental diseases and conditions. Effective preventative care is a cooperative effort between you the patient, your dentist, and dental staff.
Good oral hygiene starts at home with healthy habits, and it also continues each time you visit our dental office. Our dentists and hygienists will take good care to promote, maintain, and restore your oral health. Preventative dental care includes:
Regular dental exams
Teeth cleanings
Comprehensive oral x-rays
Sealants
Fluoride treatments
Custom-fitted night guards and mouth guards
Routine and preventative dental care will tremendously reduce the chance of serious and costly dental problems from arising in the future. Keeping your smile healthy is our priority!
At-Home Teeth Whitening
A whiter smile seems to be at the top of everybody's wish-list nowadays. Having whiter teeth can be achieved in several ways, with the most popular method being an at-home whitening system. This is a simple, non-invasive procedure that can change the color of your natural tooth enamel and enhance the quality of your smile. The results are truly stunning!
It is important to note, however, that tooth whitening is not permanent. A touch-up may be needed every several years, particularly more often if you drink coffee, tea, wine, or are a smoker. Tooth whitening only works on natural tooth enamel and will not change the color of any fillings, crowns, dentures, bridges, etc. Replacement of any restorations can be addressed after bleaching treatments to match the new color shade of your natural teeth.
At the first appointment for teeth whitening treatment, we'll take impressions (molds) of your teeth to make custom-fitted, clear plastic trays.
At your second appointment, we'll have you try on the trays to ensure they fit properly, and we'll make any adjustments necessary. Then, we'll give you a special whitening solution to use at home with your trays. We'll provide written instructions detailing how often and how long to wear the trays filled with whitening solution at home. Typical treatments call for wearing the trays with whitening solution either twice a day for 30 minutes, or overnight for a couple of weeks depending upon the desired results. Some tooth sensitivity may occur when whitening your teeth, but normally subsides shortly. Now you're on your way to a beautiful, whiter smile!
We Also Offer In-House Whitening!
Dash in-office tooth whitening is a procedure designed to lighten the color of your teeth using a 30% hydrogen peroxide gel. During the procedure, the whitening gel will be applied to your teeth for three (3), 15-minute sessions. During the entire treatment, a plastic retractor will be placed in your mouth to help keep it open and the soft tissues of your mouth (i.e., my lips, gums, cheeks and tongue) will be covered to ensure they are not exposed to the gel. After the treatment is completed, the retractor and all gel and tissue coverings will be removed from your mouth. Before and after the treatment, the shade of your upper-front teeth will be assessed and recorded.
Other Cosmetic Dentistry Services
Healthy smiles are the best smiles, and we want our patients to feel confident and assured their tooth structure is preserved as much as possible to give their smile a natural, beautiful look. We offer the following services that not only help restore and repair smiles, but can greatly enhance self-confidence and the aesthetic quality of your smile:
White Fillings
Dental Veneers
Crowns
Bridges
If your smile needs a little (or a lot) of work, we're happy to help! Don't wait – book your appointment today.
Restorative Dentistry
Do you have chipped, cracked, broken, or missing teeth? Chances are if you do, you'll want them to be restored to a better, more functional and aesthetic state. Each individual's dental situation is unique, and our team of dental experts will assess your personal needs and goals and work with you to develop a plan to restore your smile. Our restorative dentistry services include extractions, fillings, root canal therapy, crowns, bridges, full and partial dentures, and dental implants.
Preventative care is so essential in maintaining a healthy, beautiful smile for many years. Sometimes though, accidents occur that can damage your smile, or perhaps it has been many years since you have visited the dentist. No matter your case, we'll work with you to choose the best method to restore your smile and confidence. Our goal is to preserve your natural tooth structure as much as possible and improve your oral health. Replacing missing teeth can help prevent cavities and tooth decay, and also reduce the stress put on your remaining natural teeth during chewing. We'll provide an array of options to meet your individual needs, including:
Implants
Dentures
Bridges
Partials
Crowns
Root Canal Therapy
Extractions
Fillings
Let us help you achieve the healthy, happy smile you've always wanted. Book your appointment today!

Periodontal disease, more commonly known as gum disease, is an infection of the gums that surround your teeth. Gum disease is actually one of the most common reasons for tooth loss in otherwise healthy adults. Because it can be nearly pain free and show little symptoms, many patients do not even know that they may have gum disease. During your regular dental exams, your dentist will check for signs and symptoms of periodontal disease and measure the space between your teeth and gums.
What causes gum disease?
Gum disease is most commonly caused by a buildup of plaque (bacteria that sticks to the surface of teeth). When plaque is allowed to sit on the teeth for a period of time (and is not removed by regular flossing, brushing, and dental checkups), it will continue to build up and damage the gums. Periodontal disease forms just below the gum line, creating tiny pockets that separate the gum tissue from your teeth. Periodontal disease is categorized into two stages: gingivitis and periodontitis.
Gingivitis is the early stage of gum disease and can be detected when gums become red, swollen, and bleed easily. Luckily, gingivitis is treatable and can usually be reversed by daily oral hygiene practices such as brushing and flossing.
Periodontitis is an advanced stage of gingivitis that has been left untreated. The gums and supporting bone tissue can become seriously damaged beyond reversing. Gums infected by periodontitis can leader to loose teeth, teeth that fall out, or need to be removed by a dentist.Risk FactorsCertain factors can put patients at risk for periodontal disease, including:
Tobacco use (smoking, chewing tobacco, etc.)
Diabetes
Certain  medications such as steroids, anti-epilepsy drugs, cancer therapy drugs, calcium channel blockers, and oral contraceptives
Improperly fitted bridges, crowns, full dentures, or partial dentures
Crooked teeth
Old fillings that need replacement
Pregnancy
Treatment
Treatments for gum disease depend on the severity of the individual case. While prevention is always the best treatment, typical treatments for gum disease include:
Non-surgical methods including at-home periodontal trays, mouth washes, antibiotics, and scaling & root planing (deep cleaning)
Periodontal surgery and laser gum surgery
Extractions, dental implants, filling replacements, and other restorative dentistry methods
Prevention
Seeing your dentist regularly for checkups and periodontal examinations is important for maintaining healthy teeth and gums. Practicing good oral hygiene at home can significantly reduce your risk of getting gum disease. Brushing regularly, flossing, not smoking, and regularly visiting the dentist can help keep your smile healthy. We'll work with you to develop a plan that is customized to your needs and help prevent, diagnose, and treat gum disease.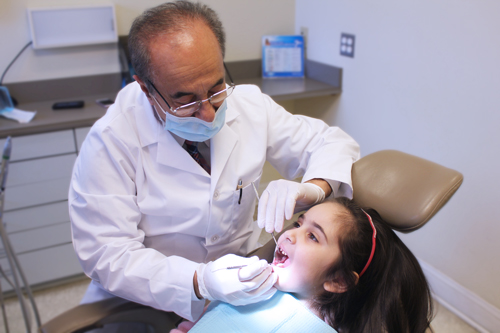 At Nadimi Dental Care, we specialize in treating patients of all ages, even the littlest ones. Our understanding of pediatric dentistry makes our staff qualified to address the dental needs of children and teens. With a warm, friendly demeanor, our staff will ease any anxieties about visiting the dentist and make our pediatric patients feel comfortable and cared for.
In providing dental care for children and teens, there are some key areas we address to ensure that our young patients are receiving the best possible care.
Infant/Toddler Dental Care
By age one or as soon as the first teeth begin to erupt, children should be seen by their dentist. Baby teeth should be cleaned as soon as they appear, wiped after each bottle or meal with a clean soft washcloth. As more teeth begin to erupt, a small-bristled child-sized toothbrush can be soaked with warm, fluoride-free water and gently used by the parent to clean the baby's teeth.
Dental Sealants
Dental sealants are applied to children's teeth to protect from decay. Sealants can be applied by the dentist as soon as a tooth erupts, and is important in preventing cavities and decay during childhood years.
Fluoride Treatments
Fluoride is an essential component in preventative dentistry for children. Fluoride alters the tooth's molecular structure and makes it more resistant to acid attack and decay. However, the right balance of fluoride intake must be monitored; too much fluoride can lead to fluorosis and harm future permanent teeth. Check with your dentist, water provider, and healthcare officials to see what fluoride treatments are recommended for your child.
Dental Hygiene
At home parents should assist with tooth brushing and dental flossing until a child has the coordination and ability to do so on their own. Appropriately sized, soft-bristled toothbrushes should be used, with a minimal amount of toothpaste (about a pea-sized drop). Children's oral hygiene activities should be monitored by an adult to minimize swallowing of toothpaste or improper techniques. Any behavior such as thumb-sucking or habitual grinding/clenching of teeth should be noted and brought to your child's dentist's attention immediately. At your child's regular checkups, our dental team will address any concerns of how teeth are growing into the mouth. Orthodontics may be appropriate for some children as early as seven years of age. Our team will provide referrals in the event that orthodontic care is deemed necessary for your child's healthy, happy smile.